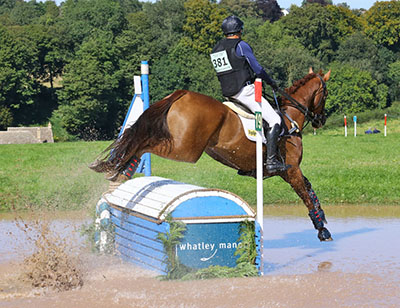 We are driving home from the final 'Little Gatcombe' – I've been going there for so many years, more than I care to remember, and we were blessed with great weather for all three days.
My weekend started with a busy Friday and ended with a quiet Sunday. It was nice to get the intermediates out, although it wasn't the most successful day. Stan (pictured) was the star of the day, coming seventh in his class after jumping a lovely double clear.
There was one particular fence in the woods that all my horses took a dislike to – it was an odd fence so I'm not going to overthink what happened as they are all solid cross country horses. Overall I was really pleased with all of them and I look forward to when I next go out with them.
Saturday was a big day for Team Levett, a real milestone. It was the first time that Josh beat me fair and square, with Smarty doing a lovely double clear and finishing seventh in his Novice section. Noor and Josh were doing the international classes as well and although they didn't place highly there was still a lot of positives from their rounds. It was a quiet day for me as I just had Bert to ride. He was having his first competition back from a break and he felt very established, coming home with a lovely double clear.
It will be very interesting going forward to see which venue gets given the Gatcombe date. Hopefully it won't be too far away and a new challenge.
Cheers,
Bill
Posted 15th September