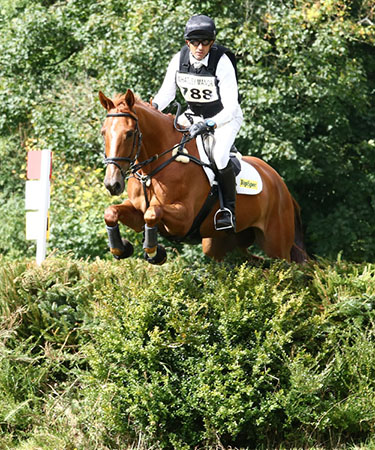 Driving back from Pontispool after a very early start for the team – we had to be ready to leave by 3:30am, with 5 horses to compete and the first dressage at 8am… and of course, the cross country and showjumping courses had to be walked before the first dressage.
The day started reasonably fine weather wise, but as it progressed showers came in. All the intermediate horses did solid tests and good showjumping rounds. Out of 4 horses I only had 4 faults. We had Quinn (pictured), Bart, Stan and Digby running at this level.
The first two to go cross country were Bart and Stan, and the rounds did not go according to plan. This will be my 25th season eventing in England and today threw up a first. Both horses has issues at the same fence, about three from home, and I hit the dust twice in a row. I could not believe it had happened for the second time – but I was well and both horses were ok so I had to pick myself up for Quinn and Digby's rounds.
Digby and Quinn both jumped round well and clear, Digby finishing 2nd and Quinn 6th in their sections. So a bad start but a good finish! We had one more job to do which was Bert in the Open Novice. Coming back from time off he just had a slow double clear and made it feel very easy. It won't be long before he is slowly cantering round an intermediate.
Bart and Stan will need to go for a little cross country schooling before their next run to ensure they are still confident, it's all part of the process of producing horses. I thought the courses were very up to height and technical but not in a bad way, the two suspended logs that were each on a mound was the combination I had problems at. I really don't understand why these days, at this type of fence, Mim clips aren't compulsory, anything that reduces a chance of a rotational fall has got to be where the sport is heading.
There was another distance in the intermediate, one fence from home which, in my opinion, was a yard too long; horses were putting in 2 or 3 strides. If you got in forward the two were fine and if you got in deep in the first you were on 2 and a half, unless you had a long striding horse. I really think 2 strides should be 2 strides no mater what distance you were getting into it at this level.
Saying all that I do think Pontispool is a very educational course and is worth the trip down as the courses had lots of variety and fences you don't see everyday. Horses need to experience these things to progress and gain a good education for the levels to come. An event we will be back to!
Cheers,
Bill
Posted 23rd September