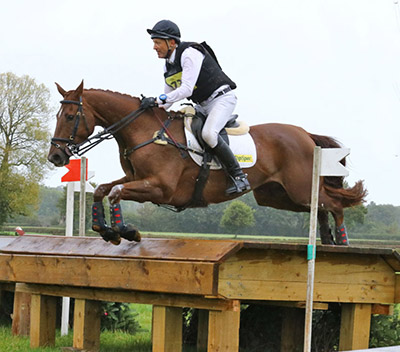 Seeing how much rain we've had over the last couple of weeks it was a bit of a relief to get another run under the horses belts – I was worried the event would have to cancel. On the Friday and Saturday Dauntsey's ground was really good – surprisingly, it seems like the type of ground that can take a lot of rain.
In the show jumping the course was quite square and up to height but thankfully the take offs and landings held up well.
The cross country was typical Beanie, strong and varied without many alternatives so a true cross country test – so if your just not quite confident enough in the partnership you can end up walking off the cross country course. As long as the fences are safe I think this is a good thing as it stops combinations getting qualified for a level they maybe should not be at through taking long routes.
Both Josh and I were competing, me on the Friday and Josh on the Saturday. I had five intermediates done by 2.30pm so there wasn't a lot of time to draw breathe and Lydia and Jess did a great job keeping me to task and the horses looking amazing. All went smoothly and the highlight of the day was Stan having his first intermediate win. He really enjoyed the softer ground and was on point and with me cross country. It is nice to have Bert back out competing feeling confident and happy.
I came away from the day thinking it had been a really good educational day for all the horses – which was very satisfactory.
On Saturday I was the driver. Josh had a mixed day which was great for his education and he came home wanting to do it all again – so I fear I will be driving for many years to come!
Josh had much improved dressage tests – there is still a long road to travel but his focus on dressage at home is beginning to bear fruit at events. He jumped three super show jump rounds on the horses which left me feeling like a proud dad. Jedi and Josh continue to cement their partnership and looked happy and confident together, with Jedi just having a cheeky glance off near the end of the cross country at a corner but jumping it at the all important third time.
Smarty sadly pecked on landing after a ditch brush, one of those very unfortunate things – Josh landed on his neck and nearly stayed on but slid off the side. No harm done but frustrating for them both.
He then stormed around the cross country on Tommy to come second, missing out on a win by being one second over the optimum time cross country.
Big congratulations to Beanie and her team for delivering a great competition in difficult circumstances.
Cheers,
Bill
Posted 10th October