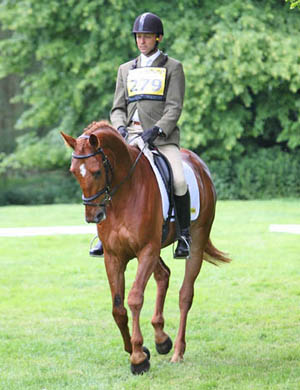 It's been a good day – I've been at a local event, Moreton Morrell, and the horses have gone well, not all of them in the ribbons but I was really pleased with them all. Darian also had an outing on Keedy and I thought she rode really well today, I was very pleased with her and how her riding is coming on.
Today was Fin's day as he had his first win at Novice and he's only just moved up to this level recently so I was really happy with him. He led the dressage with a 28 and then just tickled one pole in what was an up to height show jumping track on the surface and then jumped a nice clear cross country. The ground was good so I let him move along a bit and he won so I was very pleased with him and for Francis his owner.
I also had Womble competing in his second novice. He was OK in the dressage; he's beginning to come in terms of engagement and some parts of his test were lovely but some were not so good and he had a little wobble at one point in the canter – but overall he's coming. It won't be long until he's getting really good marks. He then jumped a round which was by and large great in the show jumping, bar two moments where he just came against me a little and so he had two rails – a shame. He then went really well cross country – he's deceptively fast as I felt I was going slowly and yet he got the time. I'm excited about him for the future.
My final ride of the day was Danny, a new ride for me. He's a sensitive red head with a cracking jump and plenty of heart – he lacks education and consistency on the flat and so our test was one to forget but he was fantastic in the jumping phases. We had one silly stop in the show jumping, a communication error; I was trying to ride him too softly and he got confused, but I was still pleased with his round. He then went nicely cross country. We will see what unfolds with him – his future is still to be determined by his owner.
I'm back tomorrow as chief lorry driver for Jenny and Eleanore, but will nip home after helping Eleanore to ride some horses and mend some fences, the luxury of the event only being 20 minutes away.
With the teams all heading out to WEG I must admit to feeling a little melancholy, however I want to wish Sam and Paul and the rest of the Australian team, and of course all the other nations, the best of luck for a safe and successful competition.
Cheers,
Bill
Posted 25th September