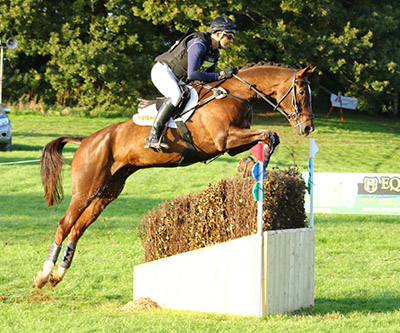 For me the 2019 season has just been completed. I was due to go to Norton Disney tomorrow with Mario, however it has now been cancelled due to bad weather.
Today again it was the turn of the four intermediates; Quinn, Bart (pictured), Bert & Stan. I nearly managed to jump 4 clear rounds in the show jumping, Bart being the only one to have a rail. Helen West, who designs Bicton's cross country tracks, is an ex-high level event rider and she produces really good challenging courses but with lots of opportunity to gallop. All the horses did tidy dressage tests and it was a busy afternoon to get through four horses all in one afternoon.
In the end we decided not to run Bert and Quinn XC as they have lots of experience now. Because it was good ground we decided to run Stan and Bart. Bart felt the best he has all year and continues to grow with confidence and feel like a real event horse as I'm building my partnership with him, so it was the perfect way to end his season.
Stan again was super competitive after dressage and show jumping and was giving me a great ride XC and on the cards to win another intermediate….. however there were two corners on a bending line two or three fences from home and he just didn't turn without fighting me and therefore didn't make it to the second corner.
But I am sure, with time, I can iron all those things out as he really loves to gallop and jump. He's still a relatively new ride for me and is not a horse I've produced from scratch so we have homework to do this winter – but he's a great horse to have the privilege of riding.
Quinn and Bert show jumped very well, Quinn in a new bit which we practiced him in during the week and it was definitely better.
So, all in all, this group of horses continue to improve and go in the right way. With a winter of homework and a good spring next year they will all be advanced by the middle or end of next season – exciting times ahead.
Cheers,
Bill
Posted 25th October