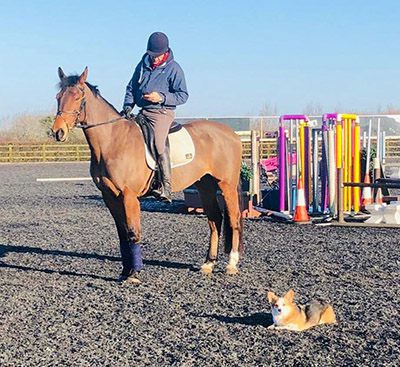 February is upon us and we've finally seen the sun, although sadly I'm not convinced it's going to stay for long and we are continuing to hurtle towards the beginning of the season. We have a great team of people for the upcoming season and Lydia is running a happy, efficient team and all the horses seem on good form, long may it last.
This month is always busy, with strong demand for clinics which I enjoy doing, as well as my own horses fitness programmes increasing and being out and about for dressage, showjumping and cross country practice, so there is plenty going on to keep us all busy.
Urssie is the first member of the family to have hit her stride competing, with her first competitive outing at Keysoe the first weekend in February. All her winter training seems to be beginning to pay off with a new PB so I'm really pleased for her. I know I'm her dad but she's a gritty hard working kid with a passion running through her for what she does – vaulting.
Josh and I have been out showjumping. He managed to beat me on Tommy in the Foxhunter, despite him only having one horse in the class, while I had four rides. I have been pulling his leg that it's not how you start the race it's how you finish! It is great to be out together and competing against each other.
Anyway, we have a few busy weeks ahead of us and I cannot wait until the start of the season.
Cheers,
Bill
Posted 8th February