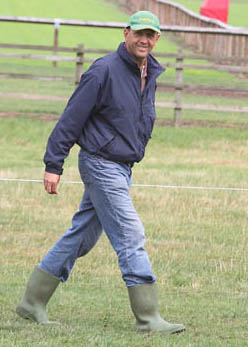 I'm writing this as I wait to be towed out at Osberton. It's not been my best day, but it's not been a disaster either – the relentless rain hasn't helped, but independent of the rain the Young Horse Championships fell a bit flat for me and for many of my owners this year – the bottom line is that they lack atmosphere, and maybe we all can't help but compare it in the back of our minds to Le Lion d'Angers, which is a great event and piece of theatre and entertainment for all involved.
I had Tommy and Alex at Osberton today for the 5Year Lycett Young Horse Final. Both did OK dressage tests, particularly given they were doing a Novice test with movements neither of them are that established at. Tommy broke in a medium trot and I managed to halt in the wrong place – muppet  moment for me (sorry Clare!), Tommy was therefore a little off the pace after the dressage which is not like him and I'm not overly worried as he will certainly have his day and doing a cracking test in the future.
Alex did a more even and consistent test with some nice work and was more attentive so I was really pleased with him. Alex then show jumped clear and Tommy had a rail – I was pleased with how both horses jumped and, as I say, I'm sure that they are both jumpers and will have their day. We decided not to run Tommy as there was little point, the cross country was quite straight forward and from an education point of view I didn't think it was necessary, and he was off the pace after the first two phases. Alex did run and my comments earlier about the cross country came back to bite me as he had 20 penalties. The ditch rail at a coffin combination caught Alex by surprise and he jinked out and hence my 20! Sadly this gave him his first ever cross country penalties AND meant we slipped out of the placings, he would have finished in the top 10 without these faults.
That is young horses for you.
I then gave some help to someone in the 1 and 2 star with their jumping ahead of their cross country tomorrow – and now for the long drive home. Dauntsey on Sunday with Womble, Dan, Fin and Moose in the Novice so I'm praying it stops raining before then. The forecast is pretty grim for the weekend, especially Sunday.
Also looking forward to the goings on at WEG. I will be watching it all unfold with interest, and a touch of jealousy, only human although I wish the best to the Aussies and of course the Brits as long as the Aussies come out on top!
Cheers,
Bill
Posted 1st October