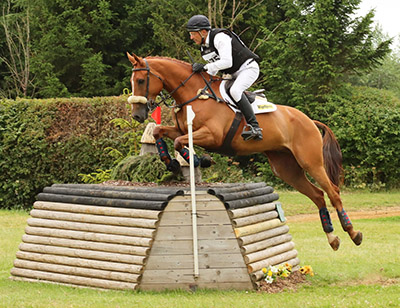 We are trucking back from Aston after a successful day. The highlight was Josh going double clear in his first intermediate with Tommy, both Jenny and I are super proud of him and incredibly grateful to the Prentice family for allowing Josh to continue to gain experience with Tommy, better known as the pink pony.
All the horses we took today were doing the intermediate and Nigel Taylor had produced an inviting cross country course with good going. Stan continues to feel more confident with our partnership this year with me having taken on the ride last season and I'm confident we are laying the ground work for some good results this season.
Bert needed the run and seemed a little bit out of match practice which was interesting as he's been in the same programme as the others at home, however I have no doubt it won't be long until he's back in the groove.
Quinn (pictured) had his first run back since Oasby in March and jumped a lovely double clear. He continues to feel like a very promising young horse and one for the future. Despite the huge efforts of Nigel and his team it's surprising how firm the ground is already – let's hope we continue to get rain as otherwise it will get very hard over the next few weeks which will be a pain. But when all is said and done it is just so good to be out eventing again.
A special thanks to Lydia for ensuring all the horses looked great today and had every need cared for, and to Charlotte and Sara for holding the fort at home.
Cheers
Bill
Posted 18th July