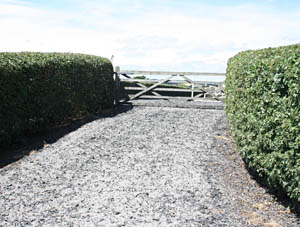 After our washed out weekend it's been a busy couple of days getting prepared for Weston and taking some of the younger horses and the working pupils show jumping. It's also that time of year when things start to wind down a little and a few of the horses have  been going home for their holidays. Tommy and Coco both left today; it was very odd seeing Coco off as he's never left the place in the last four years since we bought him from Ireland. It will be nice for him to have a complete break and great for the Kemps to get to know him a bit better having him at home.
Harry had his last canter on Monday and seems on fine form and ready for Weston Park. I'm keen to get his two star qualification under his belt as I feel he's more than ready for it and then hopefully we can crack on next year building towards a three star. Weston Park can be a damp affair given its October date but I'm hoping the cold and wet will stay away (little chance I fear), especially with the lack of electric hook up which we've all become so accustomed to. Never mind….. who needs creature comforts!
Some good news is that Hipp is coming home this week after a week or so away having some surgery to improve the chances of a full recovery from the injury he sustained at Barbury – he's not the easiest patient given his sensitive personality and love of routine but the good news is he seems to be coming out the other side well and we're really looking forward to having him at home. I've also started to work Tim again which is good, I'm glad to be back on him and I will slowly build up his schooling over the coming months to a point where I can restart my lessons with Bettina  – I'm looking at the next six months with him as a chance to consolidate our partnership on the flat and show jumping with a goal of Badminton 2011.
The new school surface is finished and we've just received delivery of some show jumps which I'm very excited about as my jumps were beginning to look rather tired. I used my Badminton winnings to spruce them up a bit and the jumps have just arrived – Ursula is particularly pleased with the new pink mounting block which was thrown in as a freebie (cannot think why!) with our order. Anyway I'm really pleased to have the school surface updated and it should now see me well for the next ten years or so!
We leave for Weston Park tomorrow morning and Harry trots up on Wednesday afternoon. I think hw will be doing his dressage bright and early on Thursday morning as he's got an early draw. I will report back with my progress and thoughts on the course over the next few days.
Cheers,
Bill
Posted 5th October