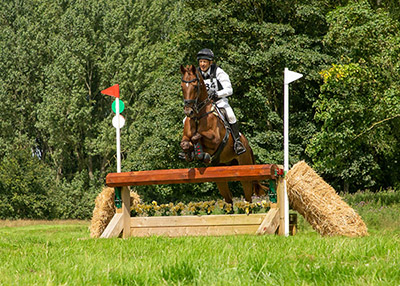 Early start today heading up to Cholmondley Castle. It's always a little easier to go up north, there seems to be less traffic and often you get softer ground.
The course is testing enough and if you had a green intermediate horse you might have the odd problem. Today I had Bart and Stan and on walking the course I felt it would be interesting to see how they coped. I was pleasantly surprised that they seem to be getting more and more confident, and this year's goal of doing a 3 star long certainly feels achievable .
The ground was good as they have had some rain recently, and the XC course had 3 or 4 quite testing combinations. The SJ for the intermediate was up to height and square – both my guys had just one rail and jumped very well so, all in all, a very pleasing day.
Josh also came along, with one in the intermediate and one the in BE100. Tommy didn't like the look of the ditch in the middle of the sunken road which was a shame after Josh and he had jumped a lovely SJ round. A little XC schooling session is in order to get him confident over these kind of fences.
Josh took Bert round the 100; it was his first competition with the horse and they seemed to really suit each other so maybe those two will be putting a few more runs together over the next months.
Eventing in lockdown seems to be running well with everyone in their own bubble, doing their own thing then heading home. Let's hope we can continue like this for the next couple of months and all stay safe.
Big shout out to the organisers and everyone that makes eventing happen, and to Lyds for doing a great job with the horses on what has been a very long day.
Cheers,
Bill
Posted 3rd August ~ Bill & Loxleys Last Stand © Julian Portch