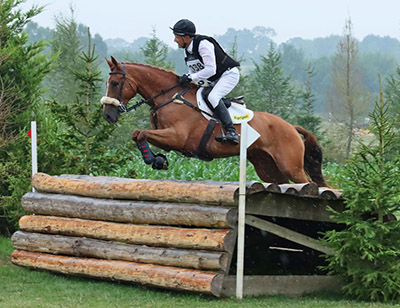 What a difference a day makes. Yesterday we were sweltering in the heat but today we were soaked with rain.
It was a big day for Quinn at Aston Le Walls. We've had him since he was a four year old and today he did his first Advanced at 8 years young, bless him. He did a solid dressage with one down showjumping – very unlucky to have the last fence down as he slipped turning into it and ended up on no stride but still tried to jump – that's the kind of horse he is, a real trier and a talented jumper.
Nigel's cross country courses were beefy and educational and Quinn took it all in his stride. One of the benefits of having a horse from a young age is that if you produce them right they often go from level to level without any major problems.
I've still got two days left at Aston with Stan and Bart in the intermediate tomorrow and Mario and Bambi in the Novice on Saturday, along with Josh back with Didi and Jedi. This rain we have had will certainly improve the going again, on top of the great work the Aston team are doing.
So until tomorrow,
Cheers
Bill
Posted 13th August