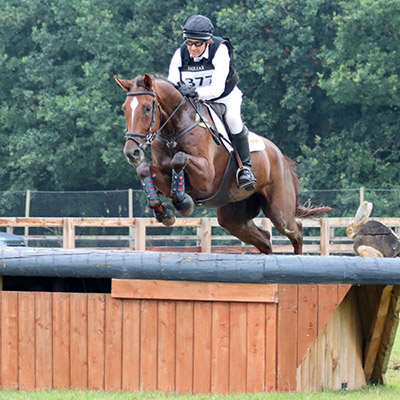 Travelling back from Aston with Stan and Bart and feeling very satisfied. I've had them both about a year, and because I haven't produced them from the start it has taken a while to gain their confidence and feel like we have a true partnership.
It's still a work in progress but they are really starting to feel like they are trusting me. Today was the first day I had ever taken Bart (pictured) quickly and I must say he didn't disappoint. He felt as though he had enough gallop to do the upper levels which is very exciting.
Stan, on the other hand, I have always known is a naturally fast horse. And today he felt happier and more relaxed in all 3 phases which was also exciting.
I would have to say today's ground was the best ground I've ridden on all year – that decent amount of overnight rain just set the ground up perfectly with all the preparation on it Nigel and his team had done.
The novices Mario and Bambi go tomorrow: it's great that we're getting all these horses out competing and even better that it's not too far away from home.
Cheers,
Bill
Posted 14th August