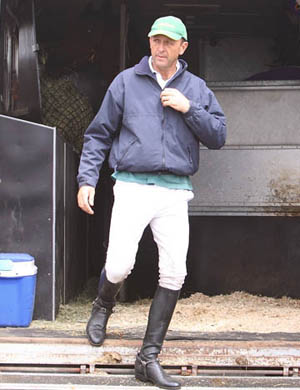 I did my dressage with Harry bright and early at 8.34am this morning. Ive never had a horse quite like him in that he hardly needs any warm up at all. I almost feel like if Id been brave enough to just walk him down and go in that would have probably produced his best! If Lenamore can do it maybe I should be braver! As it was I gave him 15 minutes work once I'd walked down and then went in.
He did a nice test and tried hard scoring a 50.0. He only made one mistake, a break in a counter canter loop which was a shame as without that I think we would have been in the 40s  – he creates a nice picture and he will be increasingly competive in the dressage as he continues to grow in his training.
After his test I gave him more work as he's fit and ready to go and so needs to be 'kept up to his work' while he's away. We try hard to mirror their home routine while at a three day event and Harry is fit and has been doing quite a lot of work at home; often a school and a hill trot each day and also on the walker twice a day so we try to replicate that here – he will hack once a day alongside doing enough work to keep his heart rate up – this is important, especially with a horse which is naturally laid back or, some would say, lazy!
The layout of Weston works better now that they've moved the trade stands to the top of the hill, everything doesn't get as wet.
I've walked the course which is a good track. There are a couple of decent pulls in it and so you will need a fit horse, especially for the last half a dozen fences in the track as it is on an incline and slow pull to the finish line. There is a difficult coffin which will need accurate riding to keep the less experienced horses confident , a corner off a turn that will need respecting to allow horses to get their eye in and a double of corners on a related line with a ledge to jump off in between; the corners are quite narrow and with not that much to jump so it will be a good accuracy test.
I came home this afternoon and had a chance to get on top of some maintenance jobs around the yard and ride a few horses. I'll head back tomorrow afternoon to give Harry a jump and rewalk the course and then I will be doing my cross country on Saturday at the back end of the day as sadly I'm in the last section of the day – a bit boring but such is life!
I'm praying the sun continues to shine as if the weather stays as it is the ground will be good on the cross country which is good news and not what I expected a week ago as I rode around at Osberton like a drowned rat.
Cheers,
Bill
Posted 8th October