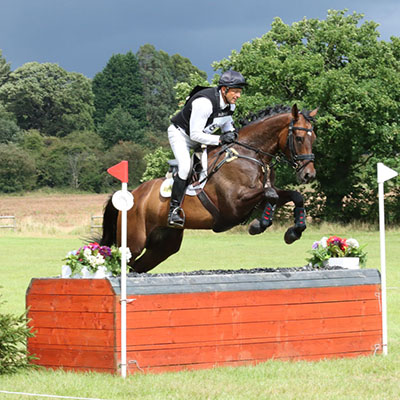 I'm travelling back from Solihull and I must say it's a nice feeling to only have a 50 minute drive to get home!
Today saw Josh have another run on Bert and all is going well there. They had another nice double clear around the BE100 and now have the MERs, given Josh's age, to be able to step up and do the ONu18 class next weekend at Keysoe.
I had Tiger (pictured), Flash and Archie at the same level in the BE100 and each time they continue to get a little better. Normally it isn't until right at the end of their first season that you get the feeling that they are really starting to understand their job consistently.
The cross country course at Solihull is never overly big and in some areas it doesn't really flow, but as experience for the young ones it is a valuable event with a good variety of fences and questions. The ground was excellent; the recent combination of rain and sunshine plus the work Solihull had done ensured some great going even after three days of competition.
The rain arrived right at the end of our time at the event, but when it did come, it came down heavily! So all in all, a good day with the babies improving – it is a good feeling to be riding around on a few very smart young horses.
Cheers,
Bill
Posted 23rd August