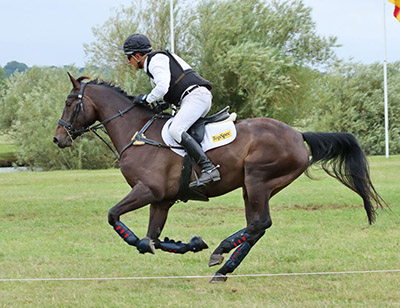 Sorry for the slow update on Keysoe, the days have rather run away with me with great clinics at Leyland Court on Saturday and Solihull Riding Club today.
On Friday I headed to Keysoe with Bambi (pictured) and Mario doing the Novice and Sparkles and Quinn doing the Intermediate. Josh joined me to do the Intermediate with Tommy. It's an event I really like as the ground is peaty and so not holding or deep even if wet and I really like the way they build interesting up to height technical tracks – I think Angus Smales is a great up and coming course designer – he is a rider and has good feel for course design in my view.
The dressage and show jumping are on a surface. The dressage arenas are particularly spooky for our silly event horses, surrounded by trees, and they also seem to think the judges boxes are full of dragons or they can see their reflection in the Perspex as they all seem to have a spooky reaction – even those that are not normally spooky! Anyway we got the job done in the dressage with solid work from all horses. The show jumping was a good, well built course – the green and pink double at fence 5 horses didn't seem to read well and it fell often throughout the weekend, but overall the course rode well and the horses jumped well in the show jumping.
The cross country, as I said, was up to height and you would feel you had an established horse at a level if they go well round these tracks but they are good to ride around and interesting. Mario jumped a super clear and Bambi the same, bar a silly spook and glance off at fence 4. Quinn and Sparkles went well, humming around – although I frustratingly had a sat nav error and missed the second last fence cross country on a separate loop which cost me a win on Sparkles.
Josh had a good day on Tommy with more mileage cross country and it was great to be able to watch so much of his round and see him giving Tommy a good ride. They had a great round bar a spook from Tommy at a birds nest set in a big stretch of open water – not something we get often at one day events but a good prep fence for a bigger event – so it was great to have the chance to ride this kind of fence on all the novice and intermediate horses.
While I was teaching at Leyland Court on Saturday, Jenny took Josh back for the ONu18 with Didi, Tommy and Bert – all three went well and Josh was particularly pleased with the improvement in Didi in the dressage; she was much more settled and they all went super cross country which was really pleasing given the nature of the track.
So all in all a good learning day again.
Cheers,
Bill
Posted 31st August