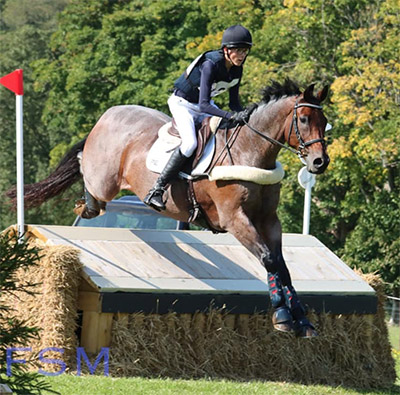 It's the end of a long three days at Cornbury House Horse Trials. The organisers put in a huge effort to run a really good show. The courses were really encouraging and testing at the same time, and the ground was prepared superbly – it was a privilege to be able to ride in such a beautiful park and a delight to ride there again 20 years or so after the last time. Long may this event continue.
Josh had a busy weekend, riding three horses in the novice and Tommy (pictured) in the Junior two star. Bert, Didi, and Jedi had good results in the novice with all the partnerships progressing well. The star of the weekend was Tommy though, finishing 4th in the U21 junior class. Josh does not take Tommy that quickly often, and I think he really enjoyed trying to get the time, and putting his foot down. They came in with a well judged round, three seconds under the time.
For the last couple of years Jenny and I have told him not to go fast and learn about riding horses in balance and then add the speed, so it was good to be able to say 'if it feels good put your foot down and to see the hard work and patience pay off'. We all never stop learning but good for them to get a great result – continued thanks to the Prentice family for their support with Tommy.
My horses went well, Bambi doing a double clear in the novice and Mario doing a lovely dressage, just one down show jumping and clear cross country. The older boys, Sparkles, Quinn and Bart, really gave me the feeling that they are progressing well in their respective three day event preparations in about 3 weeks. I'm keeping everything crossed that my plans don't get thrown into disarray by COVID-19.
It's great to have Cornbury back on the calendar – I will definitely be entering again next year.
Final shout out goes to my team, led by Lydia, but not forgetting Sara, Jo, Zara (who now heads back to University) and newbies Nicole and Amy who made sure the horses looked a picture all weekend.
Cheers
Bill
Posted 14th September