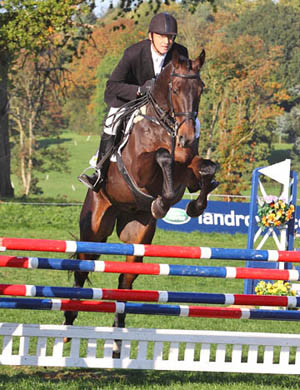 Harry trotted up well this morning and was on good form – yesterday doesn't appear to have taken too much out of him.
He show jumped this afternoon and was unfortunate to have a couple of rails. The first seven fences he jumped really well and then just tapped two fences behind (verticals) in the last four fences which was a real shame, dropping him to 12th place. However he's now got his two star qualification and I continue to believe he will go on up through the grades quite quickly as he's a cool customer and has had a solid grounding and so has the attitude and training to cope with moving through the grades from my assessment of him right now.
He will have a short holiday and then do some schooling in the winter to bring on his dressage in terms of the advanced movements.
It was lovely to have the sun out today. The show jumping caused enough trouble the course was quite poley and built on an undulating piece of ground. However it was still a good course and a good competition.
Anyway that's me done with three days for the season, which is always a sad thing but still Broadway and Aldon before the season is finished.
Jenny was at a new event, Calmsden, today which by all accounts was a great new event on the calendar, reminiscent of Syde Park. Let's hope it goes from strength to strength.
I've got a busy week ahead with riding, teaching and helping out with the finishes to the recent bits of work we've had done at home around the school.
Cheers,
Bill
Posted 10th October