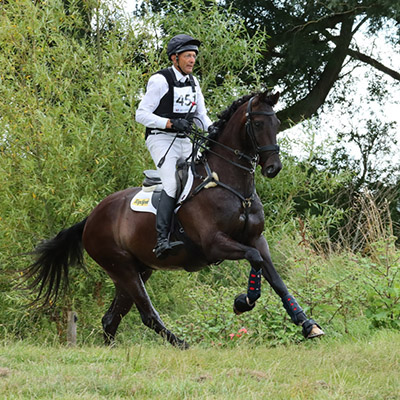 After a long three days I have finally got to put together a blog. Friday saw us leave at 4am to head up to Kelsall Hill with a lorry nearly full of horses. I took all the horses that I am heading off to Ligniere with on Sunday, for their last run.
Kelsall is a lovely flowing event and I am pleased to say all the horses came out of it well, and certainly feel fit enough to go and do their three day. The ground at Kelsall was good (as it normally is) and the course is a nice galloping track. This year some of the distances took a bit of working out but other than that it was really worth the early start.
Next day I was just up the road to Moreton Morrell; I had a couple of young ones – Flash (pictured) and Tiger, and Josh had DiDi. All the horses performed well, but the highlight of the day was Flash winning his first competition. I let him gallop on a bit for the first time, and he does seem to be quite balanced when he gets going.
Unfortunately I jumped the wrong fence on the cross country with Tiger and got eliminated. Poor Tiger, he did not deserve that, as he had done a nice dressage and one down show jumping.
The recent rain produced ground that had some give in it that was much appreciated. It was lovely to have some of Flash's owners there to see his first win. Tiger galloped around the cross country course with ease and had a lovely time, with no idea he had been eliminated. These young horses are getting the hang of eventing, and my hope is next year they will really be in the groove and have exciting futures ahead of them.
Cheers,
Bill
Posted 28th September