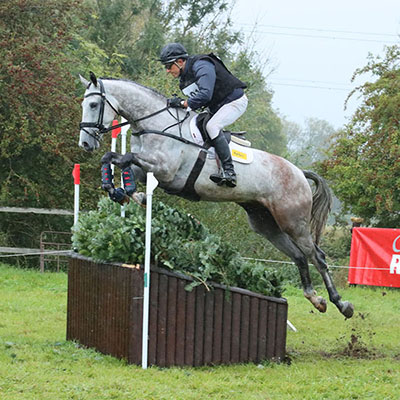 I am writing this late Dauntsey blog from a wet Ligniere. If I had hoped to escape the English weather I was mistaken, as it's nearly as bad in France, but not quite as cold.
I was lucky enough to be on Dauntsey's first day, as all the other days were cancelled. I had three in the novice: Mario, Archie (pictured) and Bambi. With all the weather it was amazing how much the ground held up. When I walked the course I took a deep breath, as it was Archie's first novice. I did not need to worry as he put his best foot forward for a nice double clear.
Mario struggled with the ground in the show jumping but felt good overall, and is ready for intermediate. It takes a couple of seasons to get to this, but it is a good feeling when a young horse does things just that little bit easier.
Bambi, like Mario, feels ready for intermediate. He again did a solid dressage and clear showjumping and has improved so much from his days of being a nervous youngster. Unfortunately I got to cross country 10 minutes after my start time and the officials had closed the course. I was astounded that they had done this only 10 minutes after my time. I think it was a bad decision from the officials and they did not have the will to change their mind. Poor Bambi was the one left without his cross country round.
Anyway, all horses came home sound and well and, judging from the following days pictures from Dauntsey, I was fortunate to get a full run on at least two horses. Now I just have to totally focus on the four horses here at Ligniere.
Cheers,
Bill
Posted 6th October