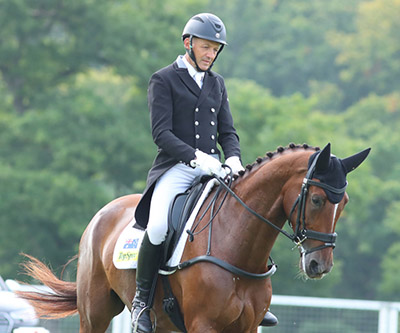 We are driving back from Ligniere after a weekend of mixed fortunes. A lovely event with good strong courses and nice ground, it is set in the south east of France, in the middle of nowhere, so you feel very safe and self contained. The venue had gone to a lot of trouble to produce great courses and ensure it was run with good Covid protocols.
We arrived early which gave the horses a nice amount of time to settle in. It was Stan, Quinn and Bart's first long format so it was a big few days out for them. They were all a little bit off the pace in the dressage but for where they are at, and where they have come from in the last 12 months, they are going in the right direction.
Sparkles was there to do the 4*L and it was nice to do a long format with him – in these strange times he hasn't done much this year.
The weather was mixed, with lovely sunshine and rain and slightly warmer than England. Cross country day started early for me with Stan on course for around 10am. He was giving me a good ride but about half way around the track we had a miscommunication and came in to a fence on a bad stride. He tried to jump it but was too close, left his knees, screwed sideways and shot me out the door. Very frustrating. I felt like he could have jumped round clear.
Quinn and Bart followed on and put their best feet forward, both clear and just a second or two over the time. Finally it was Sparkles turn and he was early on in the 4star so got the best of the ground. He cruised round – he does so love cross country – but unfortunately he was a bit stiff that evening so we had to withdraw him from the show jumping. Let's hope it's nothing too serious as it would be nice to do the bigger events once they start happening again next year.
Bart (pictured) and Quinn are now qualified for 4*L once they do a 4*S and an advanced so that is a nice thing to have under our belt with those two. As I said at the start, some good and some bad this week but still a really worthwhile trip.
Cheers,
Bill
Posted 11th October