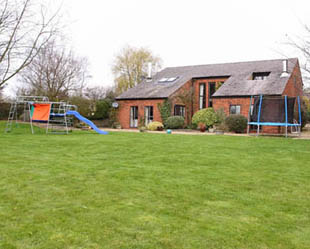 I'm enjoying having some time at home and the season for me is beginning to slow down with Weston Park now behind me. Harry seems to have pulled up well from Weston and I'm excited about him for next year. Hipp is now home from his time away having some surgery to aid his recovery. It's nice to have him back as he's very much part of the set up here and one of the favourites with the girls, along with Minuto who has been here forever and is everyone's favourite as he's such a gentle unassuming character. Hipp seems to be recovering well and is now having daily physio on his knees to try and aid his recovery as quickly as possible – he views it as an excuse for extra TLC from the girls so he's quite keen on it which is a relief.
I've been spending time with some of the younger horses and new recruits; Womble, Fin, Dan and Minty, along with Dotty and Molly who are here to be produced and further their education. I do get huge pleasure from working with younger horses and bringing them on – if I ever tire of this it will be time to hang up my boots I think. I've also been doing a bit of DIY around the place (now don't laugh, it's not my strong point). With the aid of Alex (a friend and someone who helps us out with jobs that need doing) I'm just about competent, well at least component to be his number two and take direction and be the  general labourer. We've now got the yard looking very up to speed with the lunge pen operational, the school surface refreshed and the jumps in place – I'm very pleased with it all and can now be found obsessively picking up the horse droppings from the new surface. Marigolds are quite the thing  – keeps everyone on the yard amused anyway.
We are beginning to search for a flat coat puppy to keep Dangar company and try and fill the hole left by Mally's sudden death – we've planted a tree for her and the kids and I are going to make her a plaque this weekend. We found out after further tests that she didn't die from an allergic reaction to the new rubber on the school but rather from a tumour in her heart that spread to her lung – unusual but sadly fatal – all still very sad, but at least Jenny now doesn't hate the new school surface quite as much as she did!
Anyway the rest of the week involves lessons and riding horses, making costumes for the kids Halloween party at school on Friday (no pressure there) and Broadway – a local one day event for us at the weekend.
I'll keep you posted – off to put my thinking cap on for a bat costume… I think I feel  a trip to Tesco on the cards, rather than getting the sewing machine out. Sad but true!
Cheers,
Bill
Posted 14th October