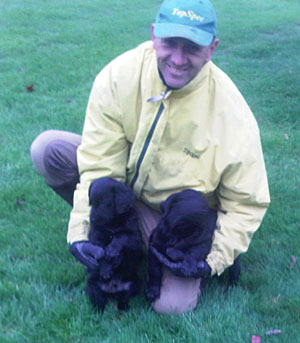 I've shocked myself today – a good friend of ours did some detective work for us yesterday and looked in to flatcoat puppies in the area and fate played its hand as she found some in our local area (in fact less than 3 miles from us).
So Jenny arranged to have a look today, I was quite reluctant but when we got there I couldn't resist and in a moment of madness I decided we should get two… and so we have two new additions to Team Levett. They are still too young to come home and we'll be able to pick them up in two weeks time.
I think I'm going slightly mad, and clearly going soft in my old age… or maybe becoming a little English after all my time here… what do they say about English men and their dogs!
Off to the kids 'winter warmer' school party this evening accompanied by a terrifying bat (aka Josh) and spooky car (aka Urssie).
Cheers,
Bill
Posted 15th October