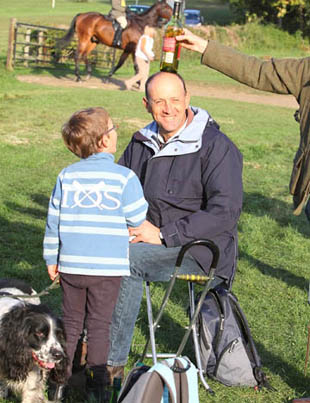 We've had a long day at Broadway today, a local event to us as its only 20minutes from home.
Jenny had three, I had three and Mary was competing Keedy for his last outing. As it was so local the kids, Grace and Jenny's mum Bridget also came along and Fiona joined us as well so it was a fun day out, although it didn't start as well as it ended.
I was on early so we arrived in the dark with frost still on the ground and Mary and I walked the course in the early morning gloom. I was first up on Dan and he was tense in the dressage; he's still not established on the flat and he's a sensitive horse and his lack of confidence in the work shows in his tension. He is however a jumper and he jumped a cracking clear show jumping and also cross country BUT….. I managed to miss a cross country fence AND jump the wrong fence (a BE100 fence backwards rather than the novice). I don't know what possessed me BUT it's done and needless to say I feel dreadful for Dan and Min his owner and have been suitably ribbed all day, don't you worry. Thank goodness he wasn't in contention after the dressage, although that's not the point – teach me to walk courses in the half light….
Anyway the day quickly improved with Womble and Moose both trying hard in the dressage scoring 29 and 31 respectively. They will both be even more competitive in this phase next season as they are lovely horses on the flat and gaining in confidence all the time and their training is coming on. Womble then jumped a nice double clear to finish 7th – no pilot error this time thank goodness and Moose had one down and clear cross country for third.
The time was hard to get on the cross country; I went as fast as I felt comfortable and still had time or maybe it's just old age! Anyway the course had some interesting new fences and changes of direction that caught a few out and the cross country caused its fair share of trouble. Broadway is a great venue as you can see most of the cross country course from the lorry park and show jump/trade stand area. The ground on the cross country was good and there were a few new accuracy questions vs last time I was here. A good inviting and educational course.
Mary had her last outing on Keedy – his swansong. He was wild in the dressage, spooking and bunny hopping through his test, full of the joy of life but he redeemed himself with a nice double clear and he now heads off in the next few days for a well earned retirement while he's still sound and happy.
Jenny had Mac, Buzz and Blue and all went well. Mac came home with a ribbon to finish the season with a second place. I've not seen him go for a while and the partnership seems to be forming. Jenny finished her season with three clear rounds cross country which she was pleased with. The BE100 water was tricky enough with a step down in to the water, a couple of strides to a step up then bounce out over a log. Again a safe educational question for horses and riders requiring positive riding. If you kept travelling across the water and rode positively it worked but without positive riding it was easy to run out of petrol and incur an unfortunate 20 and then have to take the long route.
A good day was had by all bar my senior moment. I rushed back to show a young horse I've been working on to its owners which worked out well – Dotty (the horse) is a lovely 3 year old and I'm enjoying getting her going and teaching her to jump.
There's quite a lot on this week at home including a few interesting developments but Ill update you on those as the week unfolds…!
Cheers,
Bill
Posted 17th October