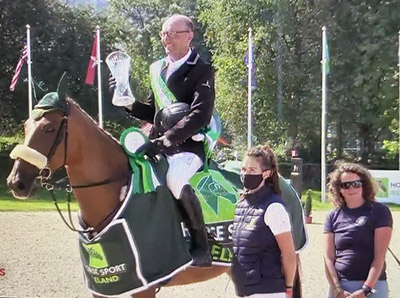 What a tremendous time I've just had at Millstreet International Horse Trials. They put on a great Show, the going on the XC was perfect and the sun shone every day with temperatures around 26 degrees! And, the horses went very well indeed.
Both Quin and Floss finished on their dressage scores with wonderful clears XC and in the SJ where Quin jumped the only clear in the 4*L to win the class. Floss came a close second in the 3*L, one of three clear SJ rounds. He did his second best dressage for a score of 29.8 and his best at an International. Floss has a bit of a following in Ireland, having come from Sarah Ennis where he competed successfully with Sarah.
Quin is such a good little jumper and is a natural XC horse. The 4*L track is the best I've ridden for many years – a big and inviting course, giving a horse confidence.
I was very proud of both horses but particularly Quin who we've produced since spotting him as a green 4 year old at Monart five years ago. He is a lovely horse to work with as he always wants to give of his best and is a firm favourite at home.
We had some challenging logistical situations at the beginning as we needed to register the lorry with new documentation to be able to operate in Europe. This required me to drive the lorry over to Ireland empty with appropriate completed forms, while the horses travelled by transporter to Monart where I was heading for the Monart selection for their Sale later in the year. Debbie Carpenter then drove Quin and Floss down to Millstreet in the lorry for the first horse inspection. The Irish were very accommodating with this situation.
It was great to have someone as experienced as Debbie along. Everything ran smoothly and the horses looked marvellous. Debbie is now driving the horses home in the lorry while I stay at Monart till Thursday for more selecting.
Both horses will now have a well earnt break. Floss will do Advanced next year and the plan is to go to a spring three day event with him. Quin has now qualified to go to Badminton next year which I am very excited about.
Next stop with the other horses is Sapey followed by Cornbury, another of our favourite venues.
Cheers,
Bill
Posted 31st August