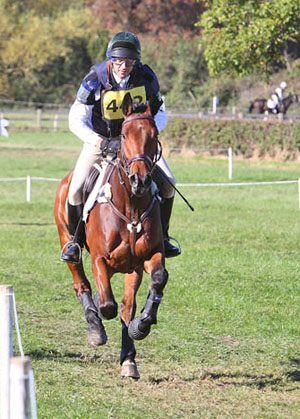 Just back from a long day at Aldon. It's quite a long drive from us (3 hours plus) and so we had a 3.30am start which thankfully isn't often the case as I was on at just after 9.00am in the dressage and needed to walk the cross country course before I started riding
Dan did a better dressage, although he was still very tense and didn't score well. He then jumped a lovely double clear; I hope as he gets more confident and established he will settle in the dressage, time will tell. The show jumping was a substantial track and caused enough trouble.
Womble was agitated in the dressage for a couple of movements which cost him a few marks which was a shame, but it will come. He then jumped a nice show jumping clear, although he is still slightly rushing his fences, but that will come over the winter. On the cross country he was pretty keen and I had a job to hold him up and stop him rushing – as a consequence it wasn't the prettiest round I've ever ridden but he will come and I'm sure settle as he grows in experience and confidence.
Fin was the star of the day, he did a nice test and jumped well in the show jumping, the best I've felt he's show jumped which was great. He then went well cross country. He felt confident and happy on what was a  testing cross country course for a novice with some up to height combinations and related lines and the terrain, which is undulating, makes horses think and can be testing for horses and riders as you are on the turn a lot of the time. Fin came 3rd  which was a nice way for him to end the season, so I was very pleased for the horse and for Francis, his owner.
Fin and Dan will now have a holiday for 4 or 5 weeks while Womble will continue with some schooling to give me a chance to try and get him a bit more in the groove and build a partnership with him before he goes home for a holiday over Christmas and the New Year.
Aldon is a great event for viewing for owners and supporters but for riders you have to concentrate with so many fences, given the number of courses they have running. I thankfully didn't go wrong after the errors I made at Broadway but it would have been easy to do so, and sadly quite a few did. The novice was quite strong, so I was pleased with the horses who are all not yet established at novice level. There was a decent corner on sloping ground, and a step up to a skinny which was hard to get a decent stride to for example.
The ground was very good and the weather was beautiful: bright sunshine but cold. Despite the long day it was a good note to finish on and it was particularly nice for me as Sally, my sister, was able to join me as she's stopped in for a day or so on a fleeting visit from Australia for business.
Tomorrow we are off to see the puppies and give Josh and Urssie a chance to meet them and have a general day of getting organised in the yard and with the girls, to make sure there's a plan for everything (Jenny's strength not mine) before we go away for four days for a short break to Portugal while the kids are on half term.
Cheers,
Bill
Posted 22nd October