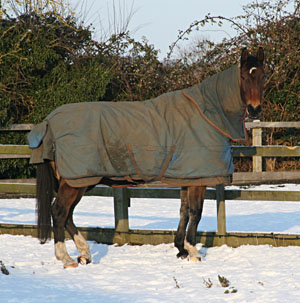 When it comes to the end of the season and what to do with your horse in terms of a holiday, I would encourage you to put as much thought in to what is best for the horse for this phase of the year as you do in to preparing him or her for the event season itself.
Predictably I'm going to say that each horse is an individual so each horse's winter holiday/programme may differ. However here I've tried to outline some of the things I consider when planning what each of my horses will do over the winter. I'm a strong believer that each horse should have times during the year when it mentally and physically has a break, however the nature and timing of the break will differ from horse to horse. Variety in a horse's training is also important – most horses (much as with humans) won't respond positively to day in day out being drilled in a school – hence the importance of environment in terms of what they do and where they do it e.g., schooling out on a hack and mixing up the type of work they do.
•         Does the horse 'do better' out at grass or enjoy its creature comforts
Some horses enjoy getting hairy, 'kicking back' in the mud and being outside 24/7. Some simply don't. Over time you get to understand what makes a horse tick and what they prefer. I've had horses that simply don't enjoy being out for more than a few hours each day – they love to be out every day but hang by the gate however good the weather and grass is  – they just don't enjoy it. I've tried moving them to a different environment away from the yard but they simply don't settle and prefer to be in at night and stay more relaxed mentally this way and in turn keep more weight on.
I've had other horses that thrive from being out 24/7 and indeed some of our horses do much better this way to the point that I've competed horses at the top level from the field as its simply suited them better.
•         Where is the horse in its overall education, what are its medium term goals
If a horse is due to make a 'step up' in level from one season to the next (eg. Intermediate to Advanced) OR has a particular phase I'm keen to do extra work on (e.g. flatwork, show jumping or if it is in need of some hunting to freshen it up or build confidence) then I might flex when its holiday is – for example, finish the season earlier in August for example so that it can have a break in September/October and be back in work pushing forward with its education over the winter months with real focus.
Alternatively with a young horse which is still growing, particularly as a 3, 4 or 5 year old we may give it a break in the middle of the year or during the spring/summer while the weather is generally better and the grass has maximum goodness so they can mentally and physically develop and then work with them during the winter months to bring on their education.
•         How old is the horse and at what stage is it in its development
Often with the older horses they will have one or two significant goals in the year and be prepared for specific targets. However in between these targets I won't let them get too fat and happy in the field as I'm a great believer in maintaining a base level of fitness in older horses as I think it reduces the risk of injury and niggles developing – similar to the research and evidence for humans as they age (speaking from personal experience!) This doesn't mean that the horses will be 'in training' constantly, as variety remains important  in their work at all levels of their experience and education.
So in summary there is no right or wrong answer for what you do with your horse at the 'end of the season' and don't feel that the only time for a break/holiday is the end of the season – it may not be. The bottom line is take the time to think about what would suit your horse best and plan its breaks in to the full year cycle not just something that happens automatically at the end of October when eventing finishes up in the UK for a few months.
Photo Hilary Manners