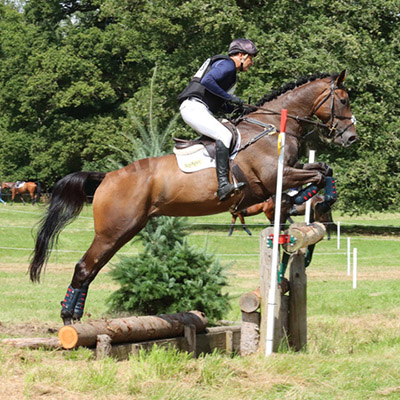 Josh and I were at Swalcliffe this weekend – glorious sunshine on both days which was extremely welcome. A lovely event with great going and good courses – if a bit twisty – and it's local!
I had just two running on the Saturday, Flash and Tiger (pictured). Archie is due to go over to Le Lion d'Angers and the older horses are now finished for the season and out having a break. Josh had just one, Jedi, on the Sunday.
Flash and Tiger were doing their last event of the season. They are both a lot more mature and seasoned at the Novice level. This is good as that is the goal when you are producing young five year olds. Having had a year at five and then a year as a six year old, by the time you get to the end of their six year old careers, you make a decision as to whether you leave them at Novice or run them on to Intermediate.
Flash feels he has enough natural ability to go onto Intermediate which is exciting.
Tiger saved his best two runs till the end of the season. He had his second double clear with a 32 dressage to finish 3rd. That's very satisfying to finish on a good note.
Sunday we were back with Jedi who did a lovely dressage for a 26.3. He jumped clear in the SJ but Josh had steering problems round the turn to Fence 3 and cantered past the fence which was a bit frustrating. Jedi is still young and takes a bit of riding but all good experience for Josh in how to ride him and get a tune out of him. Jedi isn't an established horse yet but he has all the ability which is great.
A couple of runs to go now at the end of this season. Oasby for both of us, Bicton for Josh and Lion d'Angers, Mondial du Lion, for me and Archie.
Cheers,
Bill
Posted 12th October