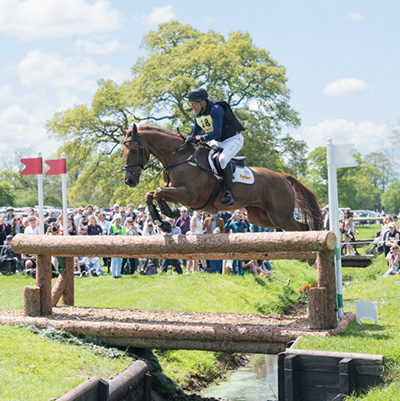 It was a week of mixed emotions at Badminton. Both Sparkles and Quin felt on great form and flew through the first trot up. Sparkles was up first in the dressage arena, posting a score of 33.5. He was good in a lot of the test. It was a little frustrating as I had a couple of mistakes, but it was not going to be a dressage competition and I thought he was the ideal horse to go for it across country.
Quin was the penultimate horse to do his dressage on the Friday. It was his first time in that sort of atmosphere and he was tense in the early part of the test but relaxed more as we went on. This is the phase he struggles with but he held it together and kept on trying.
We decided not to run Quin across country and save him for another day, so it was all down to Sparkles. He was super! I was so happy to show off his skills because he's an unbelievable galloper – you don't get many days like this. He's Jenny's favourite and we've had him since a 5-year-old. Clear with just 5.6 time penalties. Brilliant.
Disappointingly we withdrew before the final horse inspection – Sparkles was a little bit sore so we are saving him for another day… but there is lots to be happy about for his future.
Bill & Sparkles © Trevor Holt