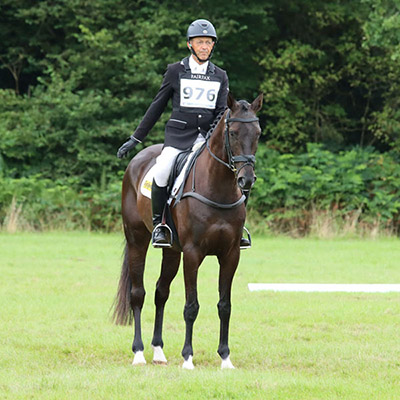 It was great to get a win in the 2*S on Flash (pictured). I've had him since he was a 3-year-old and he's owned by a syndicate of some of my long time supporters in the UK, most of whom were there, which makes it even more special. It was a bit surreal really, after dressage I looked at the three in front of me and thought there was no chance they would all fall by the wayside!
Flash is good looking in the dressage so judges tend to like him. Showjumping he can be a bit looky but he's a tidy jumper and really improving – there was quite an atmosphere with plenty to distract him but he held it together well.
Across country Flash has bags of gears and a big stride – I really think he'll get even better as the courses get longer. He cruised round. I know he has plenty of speed and we actually came home well inside the time, the great thing being that he was mentally very cool and relaxed throughout. He will now be aimed at the 3*L at Hartpury.
I was also riding The Bossman, a horse previously ridden by a pupil of mine who is having a break from competing. He's a nice, old-fashioned type of horse – time will tell how he goes, but he jumped a solid double clear to finish sixth in a novice section.
Archie had a bit of wobble – good dressage, clear showjumping, but a 20 cross-country which actually wasn't a run out. There were two fences in the quarry with a big turn back to the second. He can be sharp, and caught sight of me out of the corner of his eye on the turn and almost 'took fright', running past the fence – I didn't get to present him to it. One of those things – aside from that he was great.
The ground at Rockingham was good – they'd had a bit of rain and always work very hard on the going. The course caused plenty of trouble, but after the first few fences was a great galloping track. It's a lovely event.