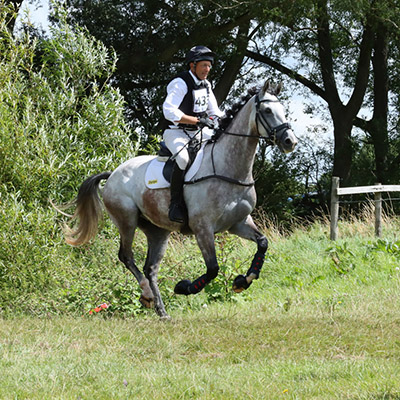 With the cancellation of Catton Park the horses I took to Farley Hall hadn't run for a while. The intermediate course was educational with lots of variety and questions that made the horses and myself think and prepared them well for their forthcoming three day events.
For example there is an interesting bank complex to an angled brush, and a good sunken road complex, and the team had worked hard on the ground, so the trip was definitely worthwhile – but it was still firm, which is why I ran all of them quite slowly.
Archie was good and continues to show his talent. He picked up a 20 at Rockingham when he was distracted by seeing me out of the corner of his eye on a tight turn, not focussing on the fence. So, I have changed his warm up, incorporating more turns and angles – and he gave me a lovely ride.
Flash is inexperienced at intermediate level, despite winning at Rockingham. We know each other well, though – he's been with me since the beginning of his education. He has bags of gallop and will do a nice test, he just needs more mileage as he's more recently stepped up to intermediate but he coped with all of the new cross country questions very well.
Boss has a lovely temperament and went really well. I've not ridden him for long so this was a great fact finding event as we build our partnership.
Stan was in the advanced intermediate, and he is inexperienced at this level. In the showjumping it was all feeling nice but I came in to fence 2 too quietly, he had a look and put down. A shame because he wants to be careful and so his clear rounds at Advanced will come. He felt great across country and has both speed and stamina, I just need to build him up steadily.
All of the horses are in a good place, and where I want them to be as their fitness levels build up for their autumn three day campaigns. Right now they could all be top level which is an exciting place to be.
Cheers
Bill
Posted 3rd July