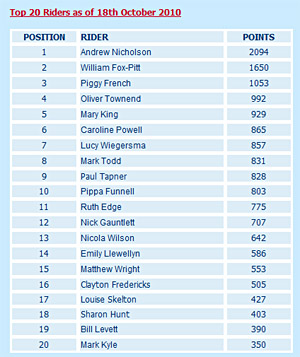 I've managed to end the season on a good note, squeaking in at number 19 in the rider rankings. As I've said before I'm not sure how I managed it as it feels like I've had a really low key autumn but I have and that's what counts.
I'm particularly pleased for the team and as I'm keen to try and do more to raise my profile to try and secure some sponsorship so every little bit helps.
Sadly I didn't find this news out in illustrious circumstances – we've managed to get stuck at Faro airport, delayed for 5 hours and with two small children (Jenny would say 3!) No fun. We've currently all got our fingers crossed that they will keep the airport open for us all to fly out, hopefully at around 1am. Should put us home just in time to feed the horses in the morning!
Cheers,
Bill
Posted 28th October