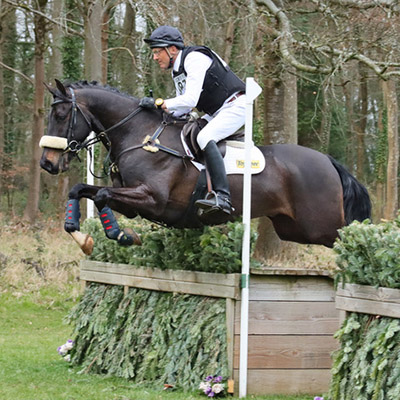 I had a mixed time at Aston where Nigel and his team had pulled out all the stops to produce very acceptable going under hugely challenging times.
Flash (pictured at Cirencester earlier this year) was in the Intermediate and produced a fabulous dressage score of 21.1 with a double clear to end up winning the section. Huge excitement from his owners, The Flash Syndicate, and his supporters who were most upset not to be there but never-the-less celebrated from afar!
Bambi didn't have a happy time in his first Advanced. He was spooked in the dressage by the trees in the top arena but then was clear in the SJ only to be distracted going through the water and leaving a leg, dispatching me into the water! Both OK, just wet and muddy! Bambi in fact gave me a good ride up to that point.
Floss, also in the Advanced, was having his first run since Millstreet at the beginning of June. He was a little highly strung in the dressage, very 'on it' in the SJ, but across country was a bit 'out of the groove' to begin with, but soon clocked on. With a double clear, he finished 10th.
Stan continues to improve and was happy on the XC where he is gaining more confidence each time.
The Advanced course was very educational, with enough to think about and plenty of questions. Hats off to Nigel for the great improvements!
At Upton the week before, they too had spent mega efforts getting the going as good as it was. This was hugely appreciated by the riders who showed this by the number of top rider entries. Competitors are finding the runs where they know the going will be good despite the long spell of dry weather.
I had Archie and Bambi running in the Intermediate. Bambi did a good dressage for 25.5 but had 2 down SJ though ran a good clear XC. Archie is still developing and showing a bit of greenness to have one down SJ and a 33 dressage. He also ran a good clear XC.
Floss (4*S), Flash(2*L) and Stan (4*S) are next at Hartpury. Bambi is next at The Festival at Gatcombe in the BCI before heading for Hartpury 4*S.
Archie and Boss are next at Burgham in the 3*S. Archie will then head to Millstreet for the 4*S along with Bambi. Boss heads for Hartpury 3*L.
Next stop Burgham.
Cheers,
Bill
Posted 26th July