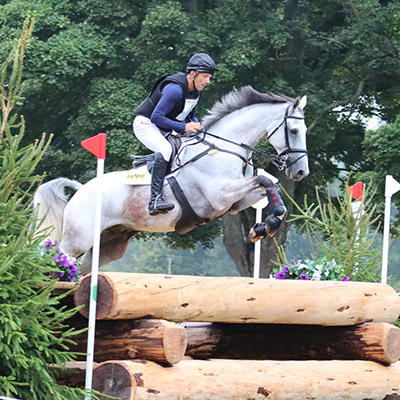 The last couple of days I've been at Cornbury Horse Trials, with Archie (pictured) and Flash both in the CCI3*S and Boss in the Intermediate.
I was happy with the tests of Archie and Flash, scoring a 30.2 and a 34.4 respectively. In the SJ Archie unfortunately had one rolled pole in a tight arena while Flash had an unhappy time in the SJ arena, being very 'looky'.
Archie had a good XC round with lovely ground and was totally 'on it'.
There was a 2 minute silence in remembrance of Queen Elizabeth II just before Flash was due on the XC.
He had a tentative start but was then up for it. The second water was a little tricky and Flash needed firm riding through it, with a fence in the water and a narrow brush coming out.
Boss did the Intermediate on Friday afternoon which was beautiful and sunny, unlike the morning which was gloomy and drizzly. He was very settled in the dressage for a good 28.9 and then just one rolled pole. On the XC he gave me the best feel ever, finishing 5th.
Next stop is Blenheim with Floss in the 8/9 YO CCI4*S and Stan in the CCI4*L.
Cheers,
Bill
Posted 12th September