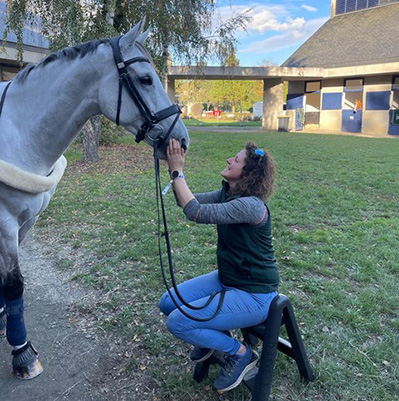 Archie and I were contesting the seven-year-old world championships in France last week. After posting a dressage score of 30.6 we had a long wait on cross country day as the six-year-olds ran first and we were in the last quarter of the seven-year-olds.
We had a marvellous round over a strong but lovely track, which I liked when I first walked it. It asked lots of questions which was good. Archie was great and completely in the groove. He was very genuine and flowing, coping with all the bendy lines and turns. Ticked lots of boxes, not least of which Archie can gallop fast for 9 minutes.
He was inside the time, so we finished on our dressage score. Pity we were just outside a twenty something in the first phase, but Archie was a bit lit up and not as settled as usual. There is lots of atmosphere around that arena, with noisy stands, which made him a little tense. All good experience though, both in the dressage and on the cross country.
Showjumping day and we were again in the afternoon. Archie jumped a cracking clear round to finish 16th. The prize giving was, unbeknown to us, for the top 17. Archie was back at his stable having a rub down when we heard this! Wonderful Debbie Carpenter, who was looking after Archie in Le Lion, had to do a speedy tack up and off we went back down to the arena.
An exciting end to a great season.
Cheers,
Bill
Posted 26th October ~ thanks to Miranda Heynes for the lovely image