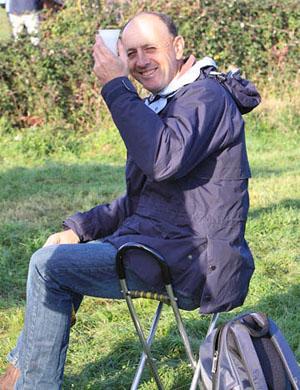 I'm just back from a day as 'team trainer and trucker' with the girls – Jenny and the working pupils all had a spin around a local hunter trial at Swaycliffe – the base for Richard Taylor who is an experienced and well established BE course builder so as a consequence the courses at his home event are always excellent. The place is also set out for great viewing which is good for the 'trainer' – and good for the girls if they ride well!
Eleanore, Thea, Julia, Mary and Darian all had a spin today and blew the cobwebs out – it was great to see them out competing and they all rode well. Thea came home with a rosette on Bob in the Open section which was good and the others all went well but missed out – it was judged on clear rounds and a timed section with a bogey time.
Jenny was also out and did the pairs with a good friend which they both enjoyed on their speckled and spotty ponies. It was good to see that they had some fun.
We also swapped Herbie in last minute as Buzz is going to his new home tomorrow so we decided not to take him. Jenny rode him around and he went like a top  -he really will make someone a good fun horse. He has a great mind out hunting and is good to a fence and not strong at all. I was really pleased with how well he went today as he's not been to a hunter trial before and he took it all in his stride.
Anyway it was a good day out for the team and great to see that the girls are progressing with their riding, building a connection with their respective horses and improving all the time.
The kids are off trick or treating this evening so there is much excitement and business at home getting the scary kitten and bat ready for their outing to terrorise the residents of Chipping Campden – lets hope the rain holds off.
Cheers,
Bill
Posted 31st October