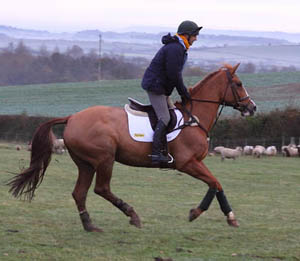 It's been yet another hectic few days starting with a spot of cross country schooling on Friday with a couple of young horses, both of which were having their first cross country outing. They both went well being happy to get their feet wet, jump a small ditch and go off a step. It's a lot for them to take on mentally when they first go out so I always make sure I don't do too much with them and stop while I'm in front, but at the same time ensure they get to experience enough variety.
Saturday saw us preparing for our end of season party for owners and supporters. I've been rather remiss with this over the last couple of years since the kids have come along but with a gentle prod from Jenny we've now firmly reinstated it. Fun was had on Saturday afternoon moving furniture in an attempt to make our house look a little more like something out of a coffee table magazine, but we swiftly gave up on that and all fell about laughing. With two small children and two puppies our house is looking distinctly lived in but luckily all owners and supporters are understanding and appreciate that what you see is what you get!
We had a great time, it was lovely to catch up with everyone and it all went off without a hitch – the only error was I forgot to give the thankyou speech I had planned! Next time.
There is no rest for the wicked and Sunday morning I was in the car at 5am to drive up to Lincoln for a clinic I was giving. I enjoy these kinds of days and I think fun was had by all, the day flew by and I was grateful for being in an indoor school for the sessions!
This week I will be cracking on with breaking in a couple of young horses, one for long term supporter and owner Angela and another for Niki Rank who owned Magnus. As I've said before working with young horses is something I get great pleasure from so I'm looking forward to the next few weeks.
Cheers,
Bill
Posted 22nd November