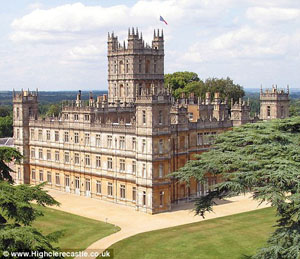 Last Friday we went to Highclere Castle for the drinks party that I won for coming second in the Stately Homes Challenge, which culminated at Highclere in the late summer. At the time I remember being pretty gutted to miss out on the top prize of £5,000 by less than a second! However after the party I don't feel like that at all – what you've never had you don't miss! But more importantly it was a very special evening. The prize was a drinks party for twelve guests at the Castle.
I had taken on the planning from start to finish (a rare event in our house as those of you that know me well will acknowledge), but by the end of the night I had earned myself the nick name of 'jammy' as I pulled a very good night out of the bag for one an all! The only downside is that I might have to take on organising things on an ongoing basis, being as I did such a good job.
Anyway back to the night, we all met for a drink at 6.00pm at a pub just outside the grounds of Highclere. The first major miracle is that we all made it more of less on time, given that most people had horses and/or small children to organise before escaping for the evening. We then all drove up to the Castle. It was completely magical as we drove in, with snow on the ground and frost in the air, so everywhere was white and the trees were sparkling with the frost and snow. We drove right up to the front door and received the most wonderful special and yet informal welcome from the Earl and Countess of Carnarvon and a great time was had by everyone. We were given a great tour around some of the rooms within the house, gaining an insight in to its history and the many characters that have played a part in that – it was fascinating. We then topped the evening off with a trip to a local pub for a bite to eat – and yes, by complete chance we landed on our feet at a pub with wonderful food!
The evening at Highclere, and in particularl the tour around some of the rooms, was a very special thing to have the chance to do in such a small group and with good friends, so a big thank you to the organisers of the Stately Homes Challenge for organising such a great series and to the Earl and Countess for being such wonderful hosts.
Cheers,
Bill
Posted 5th December