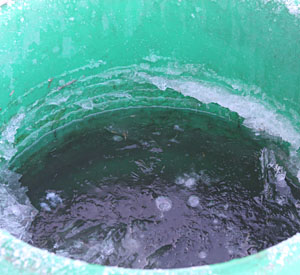 It's been a bitterly cold week at Little Charingworth, as it has around the country. I am so thankful that we resurfaced the school this summer and sorted the lunge pen as the surfaces have not frozen at all which has meant that we've been able to work the horses every day despite the freezing temperatures. I've never known it so cold, on Tuesday it didn't get above minus ten all day.
I'm really, really grateful to the team as they've plodded on in this dreadful weather with a smile on their faces. It's no fun at all, as any one with horses knows, when the drinkers freeze over and everything takes three times as long to do – they have been fantastic.
Sadly many of my lessons have been a casualty of the recent freeze as people are not able to get about or get their horses worked. Our drive way has turned in to an ice rink and we've had some interesting sights with oil tankers, feed deliveries and bedding all slip sliding on the ice rink otherwise known as the Little Charingworth Stud drive. The weather is set to improve heading in to the weekend which will be a welcome relief for all of us.
All the horses are continuing to go well and progress with their schooling. I like this time of year as I'm really able to focus on bringing them on on the flat. The girls are also going well, with their riding coming on which is good to see. Tim and Hipp are both now back in work; Tim is beginning his Badminton preparation and the vets are happy that everything has settled down well from the tweak he had in the summer post Barbury. We've been cautious and it's taken time, but the time and caution so far seems to be paying off. Hipp has also been given a gold star on his latest progress report and begins the next phase of his rehab, moving on to some trot work which is also good and I'm pleased to be back riding both of them.
Christmas is only just around the corner and it's great to see the kids getting excited about it all. They are practicing hard for their first christmas play – "tinsel and tea towels" so we are off to see the performance early next week. You guessed it, we have one Angel and one Shepherd in our midst  – not sure how it fits with tinsel and tea towels.
We've also had some good news as our planning permission has been granted for the improvements we are hoping to make over time. It will be a long haul but Jenny and I are enjoying the process of working out what to do and how to do it, at least on paper!
Cheers,
Bill
Posted 10th December