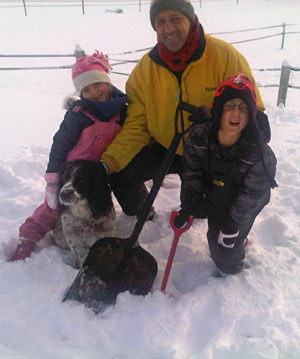 Well, consistent with the rest of the country we received our fair share of the recent dumping of snow yesterday. Until then we had remained relatively unscathed vs much of the UK and had been able to work all of the horses every day. However yesterday it came down and just didn't stop and now we have a good foot of snow everywhere – it looks lovely but is a complete pain in terms of looking after horses, or any livestock for that matter.
Much of yesterday was spent digging trenches for the girls to get their barrows around and to be able to get horses to the walker – on days like yesterday and today I'm very grateful that we have an indoor horse walker as at least the horses can get to stretch their legs on that a couple of times a day for an hour.
The forecast is not looking promising so the plan is to finish the snow man today and then tomorrow to tackle digging a circuit in the school so that we can give the horses some exercise and work them rather than just having the walker. The school surface is completely fine, it's just under a good foot or so of snow and the forecast doesn't indicate it will be melting any time soon.
I'm also hoping to fit in a spot of sledging with the girls tomorrow, with the best sledges in the world  – old feed sacks stuffed with straw. We have some fantastic spots nearby with the hills that surround us to be able to get up some speed with a relatively safe 'run off' spot at the end.
So all in all not much to report on the horse front, but let's hope the cold snap will pass soon and that we get it all out of the way now while it's not quite so critical to spring event preparations.
I must go and prepare my questions for our staff Christmas party – we have an annual quiz, a very competitive affair, and I hate to lose. After 'chestnut gate' last year – a dispute over how many liver chestnuts we have in the yard vs. chestnuts – this year evidence will be required for every quiz question tabled, unless of course I'm on the winning team!
Cheers,
Bill
Posted 19th December