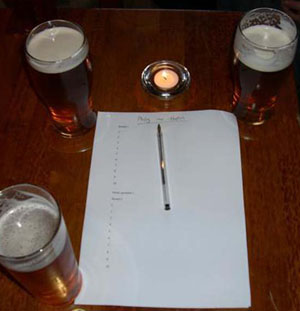 Although it pains me to write this I didn't win the quiz last night – and in fact my team and I came last (or I'd rather say, third).
A good night was had by all at our Christmas party – we had the pub to ourselves (thanks everyone at the Churchill in Paxford for opening – some of the most delicious food in the Cotswolds everyone!) as we were the only ones mad enough to venture out in the sub zero temperatures and snow covered roads. They did a sterling job to feed us as their heating and hot water had packed up but they had a lovely open fire and the food was as good as ever.
All in all a great night apart from the quiz result, and worse still, the wife, Grace and Lisa won! Stitch up I think………. although we all had to provide 5 questions each, so with 10 people participating I'm on dodgy ground with this claim!
At least we won the cricket……. so it's not all bad.
Off to shovel more snow. We've nearly finished a track around the arena to be able to work the horses rather than just using the indoor walker, but the forecast predicts more snow. I'm bored of it now – I know it's pretty but it's a pain with the horses!
Cheers,
Bill
Posted 20th December