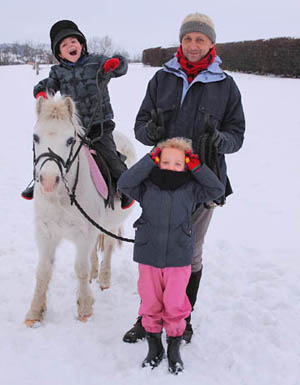 Fiona popped over today and took some photos around the place in the snow. Basil was as tolerant as ever while the kids and I messed about in the snow and Fiona snapped away, and then she took some pictures of me working with the horses.
The kids have a fascination with being snow bunnies – I haven't quite worked out why yet! It was nice to retire to the warm kitchen and aga and catch up over a mug of steaming tea.
The snow persists and although it is showing signs of thawing today, sadly the weather man is predicting another dumping of snow tonight, but I'm hoping he will be wrong and that we can crack on in earnest. I'm keen to get going with the horses and am hoping that the new omnibus will be with us shortly so that we can make plans for the horses for the season ahead.
The next 12 weeks will fly by and it won't be long before the eventing starts again in earnest. However, for the next couple of days I'm going to continue to enjoy the steadier pace of life and remain very glad not to be trucking in my lorry at the moment.
Cheers,
Bill
Posted 28th December