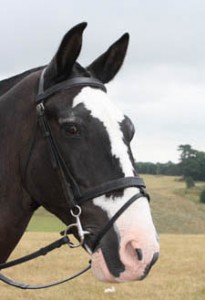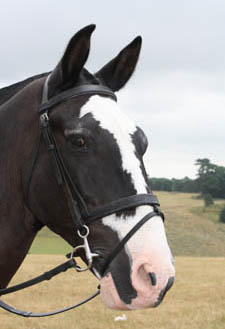 It was good to get back out cross country schooling again this week. I have a couple of young horses that I'm getting started and I find cross country schooling is a great way to get them thinking forwards. It has benefits then for their flatwork and jumping around show jump courses in this respect.
I find four or five outings (doing little and often) can be very helpful in short order – jumping small ditches, in and out of water, on and off small steps, and small fences etc.
I also took several of the working pupils to have some fun and blow out the cobwebs! To this end, as we were warming up Janine and Bailey overtook all of us, with Bailey very pleased to be out and about – he was grinning from ear to ear as he set off at top speed before we'd even started jumping; a little black blur whizzing around the schooling field. Bless him, he's in his early 20s but it took him about that many minutes (20) to settle down. He then jumped like a top.
One thing I'm working on with the working pupils at the moment is their ability to ride fences more safely at speed. It is a vital skill for getting times when choosing to be competitive while at the same time staying safe.
Great to be again jumping on grass, out in the open spaces – even if I was personally jumping less than 2ft high!
Cheers,
Bill
26th January