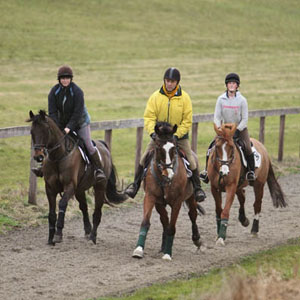 Well the season has started to feel much closer with our first trip to the gallops.
I've been using the same gallops for the last few seasons and I'm very confident in them. The gallop has a great surface and is just the right length and incline for me to get the kind of fitness preparation I like to do done. I've become confident in knowing how many times to go up and at what speed to get horses fit for each level of eventing and that is a great asset to have.
The gallops are only about twenty minutes away but it still takes a couple of hours by the time you are there and back. However it is well worth it. We tend only to take the intermediate horses and above as we have access to very good old turf and some hills on the next door estate for the Novices to canter on.
We took five horses on our first trip this year. I was expecting cartwheels from them all but they were just a bit fresh and pleased to be there which was nice to see – enjoying their work!
It was the first time I have seen Silks canter up the gallops – it will be interesting over the next couple of months to get to know him better and see how well he can gallop.
It was also good to get Tim back on the gallops, and he was definitely feeling well – he was very keen and it took all my skill to hold him in a slow lope for his first outing as he was definitely wanting to go faster! He does have a great stride and engine.
All in all it was good to up the ante with the fitness work and we all managed not to get blown off on what was an incredibly blustery day.
Cheers,
Bill
Posted 4th February