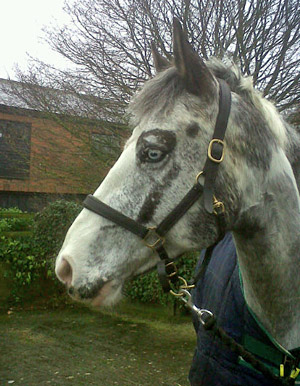 We have a new horse on the yard – I should never let my wife go for a hack with a friend! She went hacking on Sunday (with Ursula) and came home with a plan to look at a horse which was sadly for sale as it was proving too much for a young lady as she has an debilitating illness.
Jenny being Jenny went and had a look at the horse and bought it, as she thought it was very biddable and had nice paces, good confirmation, a nice pop and a good mind.
I've teased her endlessly today as it's also a 'funny colour' – it has bright blue eyes and is a sort of a washed out piebald colour – sounds odd I know, but it's quite attractive. So she now has spots (Bluey), stripes (Mac) and splodges (Blue Eyes)! Anyway it's a project for Jenny and me – we love producing horses so we will spend some time with this one and see what we've got. If it works out I'll take the credit (all my training) and if it doesn't – it's all her fault!
Cheers
Bill
Posted 10th February