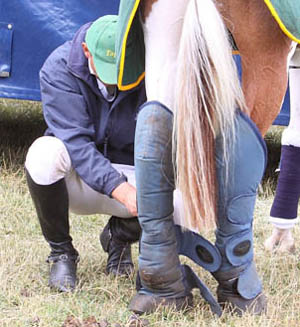 I'm definitely clocking up the 'brownie points' with the wife ahead of the start of the season. I've just spent the day driving the lorry and grooming for her. It seemed like a good idea at the time, however it did nothing but rain and blow a gale so I was glad we had very good times and it was only dressage and arena eventing and I could spend most of my time either sheltering in the lorry or watching the competition from the warmth of the lorry cab (strategic parking always important on a wet day!) The grooming standards from me definitely deteriorated as the day went on – at the beginning I was volunteering hoof oil and all sorts but by the afternoon she was lucky to have a saddle and bridle – it gave me a new found appreciation for the girls that work with me, especially when the weather is dreadful.
Anyway I must have been the lucky charm as Jenny won on Mac and was placed on Tigga (a cracking little horse we have in to sell on) and Bluey – although Bluey was rather wild as is often the way, a few gusts of wind where enough to set him alight.
In the mean time my horses are going well at home, I've been working hard on the detail on the flat, halts, centre lines etc and it's beginning to pay off with many of the horses going better. I'm also working on the rideability of the horses to a fence, now that they are all back in jump work. You don't need to jump big to get something done with the horses, I don't tend to jump big at all at home, even with the advanced horses. I tend to focus on rideability (the ability to adjust the speed and stride length) to and away from a fence (just as important and often forgotten by people as they are so relieved to have gotten to the other side), as well as accuracy – both the ability to jump a particular point on a fence and to jump fences on an angle, or skinnies etc.
I've got a busy week ahead of me, with lots of schooling of horses both at home and taking some of them out cross country schooling and show jumping, along with the gallops. So it will keep me out of trouble and luckily away from grooming for the wife!
Cheers,
Bill
Posted 13th February