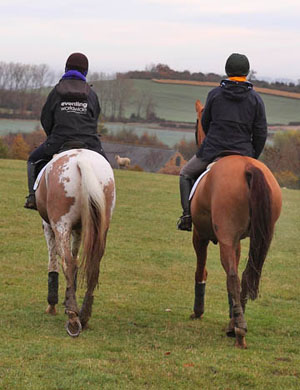 When I asked Jenny (I guess I should never have asked) if she'd like some flowers or to go out for a meal for Valentines Day she said no, she didn't fancy overpriced flowers or sitting in a restaurant stacked to the rafters with other 'couples' – instead, she said, can we go cross country schooling together!  Strange woman……
Anyway, that's what we did – along with her partner in crime, our friend Miranda. We took Moose, Mac, Bluey, Tigga (and Miranda joined us on Bertie) for a spin at Swaycliffe.
The sun shone and much fun was had by all. All the horses went well – it was good to see that they were confident even though they'd not seen solid fences for a while, something Jenny had been concerned about.
So a good day out and much cheaper than a meal/flowers – so she's happy and so am I!
Cheers,
Bill
Posted 14th February