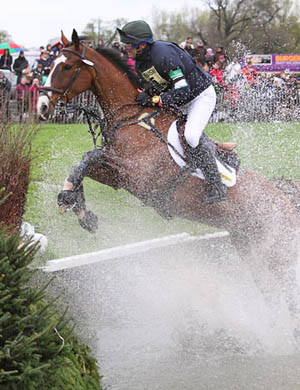 First milestone for Badminton achieved, Jenny has just put in Tim's entry which is always an exciting first step. It seems odd to be putting in an entry for Badminton before the season has even begun – it all seems to be getting earlier and earlier each year but that's just the way it is.
The Spring schedule this year is not great from my point of view in terms of preparing a horse for Badminton as the Advanced runs that are available are all rather on top of each other. I also personally like to use Burnham Market as a pre Badminton run and this is the week before Badminton this year which is too much of a risk in terms of running cross country. So I've put together a slightly different preparation plan for Tim where he will only actually run cross country once, most likely at Lincoln and then I will get him fit on the gallops and do some cross country schooling alongside accuracy practice in the school at home. He's an experienced  horse so I'm hoping this plan will work.
For Tim and me it's all about continuing to build a partnership as I'm still getting to know him. I only took on the ride from Matt last Spring and Tim and I have only actually done a handful of events together, including Badminton. So I've been using this winter to get to know him better on the flat and build his core strength, and I'm now focussed on improving our partnership/rideability to a fence.
Anyway first hurdle crossed, entry in. So fingers crossed and we'll keep cracking on.
Cheers,
Bill
Posted 17th February