Despite the many years I've been at this game when the beginning of the season comes around I'm always rusty in remembering what to take/do for an event.
Several years ago Jenny and I wrote down 'things not to forget' in terms of preparation for the first event, both before and during. It still exists on a well worn piece of paper but has also recently made it on to a computer so I thought it would be helpful to share some of it with you.
At the beginning of the season we always look it out and sit down with the team to ensure everyone knows what we are doing when.
Before the event
As with everything we seem to write on the website much of it comes down to good planning, so at least a few weeks in advance of the event make sure you have thought about the following:
Horse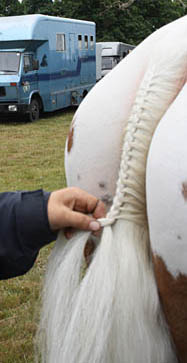 You want the horse to look his best at the event so make sure you plan in a 'make over' in advance. For example:
♦  If he needs clipping don't leave this until the last minute for several reasons
o    Horses look better in their coat, in my view, a week or so after they've been clipped
o    Some horses require sedating to clip and sedatives need to be clear from the system at least seven days before you compete (check with your vet for exact dates depending on the sedative used)
♦  Trimming, mane and tail pulling – many horses don't enjoy this experience so little and often is a good plan to ensure it doesn't become an 'issue' for a horse
♦  Shoeing – I would not recommend shoeing a horse immediately before it runs. We aim to ensure horses are shod a week/10 days before each competition; obviously this is not always practical, however I would always try and ensure a horse is not due for shoeing at the same time as its event. You want to ensure the horses feet are in the best condition possible when you got to an event
♦  Stud holes – have you got them? Again check you have stud holes, I would always recommend two in each shoe to aid maintaining foot balance
♦  Flu vaccinations – make sure these are up to date, you cannot give a flu vaccination within 7 days of a competition
♦  Physio – we get the horses backs checked regularly, however we would never do so within a week of a horse's competition unless there was an acute issue that needed immediate treatment, as if the horse needs treating it might not be able to run at its event.
♦  Vet and meds – if you are unsure of any of the products you are using on your horse speak to your vet and check that they are legal to compete on, make sure you do this at least three weeks in advance of your event (if it's affiliated) as most products need three weeks to work through the system
♦  Nose nets and Regumate – these are examples of products where you can compete with them BUT you need a letter from your vet and/or BE explaining to ensure you have permission to compete with them
♦  Plaiting – have a practice is particularly important if (a) you've not plaited for a while and (b) if the horse hasn't been plaited for a while and/or is new to you. You might then need to repull the mane and/or discover the horse is a fidget and/or that it rubs the plaits out which will influence whether you can plait it the night before for example
♦  Tack repairs and spares – check over all of your tack – it's particularly important to check girth straps, all stitching on stirrup leathers, bridles, reins etc.
♦  New tack/kit – I know it's tempting but I would strongly encourage not using any kit for the first time at a show, especially boots, but also numnahs, leather work etc. – as it will often rub and/or need time to wear in to be most comfortable for you and your horse
♦  Grey horses – they are often the least clean horses on the yard. In our experience it is easier to get the green stains white if you mount a campaign in advance rather than leaving it to the night before. We wash the greys/white legs with a stain removing shampoo for several weeks in advance of an event to minimise the staining on an ongoing basis.
The night before we always have the same routine. Try not to leave it too late in the day to ensure the horse's routine is disturbed to a minimum – remember horses are creatures of habit so try and minimise disrupting their routine the day before an event.
♦  Bath, plait and trim the horse
♦  Tap and plug the stud holes – I would recommend using a shoeing nail (buy a box from your farrier), WD40 and cotton wool
♦  Clean the tack – don't forget the treads or your stirrup leathers, and don't apply oil or saddle soap the night before to the top of your saddle as both could end up too slippery/sticky
♦  Feeding – depending on your start time plan your horse's feeds the evening/afternoon/evening before and on the day of the event
Lorry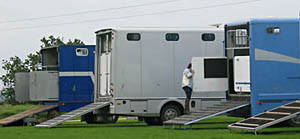 Obviously you need to make sure the lorry is road worthy and mechanically sound. In advance of the event we always make sure it's full of fuel and oil and the water is checked as it's one less thing to do on the day of your competition.
We also make sure we pack it in advance with the following items:
♦  Rugs (a full range, although the most important and most used in my opinion are: rain sheets – at least two as when you need them they often get wet; thermatex – several and if you have them both thin and thick)
♦  Waterproof saddle covers
♦ Towels, lots of them (check out local charity shops) – they are so useful for drying horses legs, keeping things clean etc
♦  Medical kit for horse and rider
♦  Water, buckets, sponges, scrapers, shampoo
♦  Ice boots, cooling gels/agents/leg grease/newspaper
♦  Leather punch
♦  Studs, stud kit, including spare spanner
♦  Shoeing kit, spare shoes if your horse has anything out of the usual on its feet
♦  Spare travel kit, spare tail bandages, tail guard, spare leather headcollars (in case any of the above break or get 'trashed' by the horse)
♦  Grooming kit, including mane and tail, fly spray, chalk, brushes, combs, plaiting kit/bands
♦  Tack cleaning kit
♦  Odds and sods – black insulating tape, shoe laces, newspaper, hibiscrub, vet wrap, melanin, cotton wool, disposable gloves
♦  Rule book
♦  Ruck sack to carry stuff around to dressage etc
♦  Boots and bandages including wraps, exercise bandages, show jump boots, exercise boots, cross country boots, travel banadages and wraps to apply post competition
♦  Whips – dressage and jumping
♦  Lungeing kit – cavesson, side reins/pessoa, lunge line, lunge whip
♦  Tack including spares if possible especially spare leathers, bridle, reins, air bag attachments (if applicable)
♦  Numnahs, including spares, riser pads, sheepskin pads
♦  Polo mints and carrots for the horses!
Rider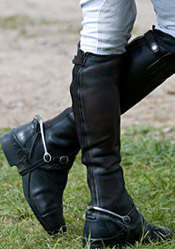 Again don't leave things until the last minute. In advance:
♦  Make sure all of your kit still fits and
♦  When not in use get it dry cleaned and or repairs done (buttons replaced, stitching sorted, spare buttons attached)
♦  Check your boots fit, make sure the zips (if applicable) don't need repairing/replacing
♦  Clean your boots and spurs/including spur straps, and check spur straps aren't worn out
♦  Make sure your hats are compliant and if you've bought a new one, plan in time to get it tagged at an event
♦  Search out your medical arm band, and number bib
♦  Check that your body protector (and hats) are compliant with the latest safety standards
♦  If appropriate have your air bag serviced and check you have a saddle attachment (and ideally a spare)
♦  Pack plenty of warm clothes and a change of clothes both for riding and travelling in
♦  Make sure you have several pairs of gloves in case they get wet
♦  Find your rule book and learn your dressage test(s)
♦  Ensure you have hair nets (including spares) and hair ties if appropriate
♦  Ensure you have enough comfortable riding kit – I would always (as with the horse) not advise using new kit for the first time at a show. Check list: jodhpurs (including spares), shirt, jacket, tie and/or stock (and pin), jacket, cross country colours, body protector, show jump/dressage hat, cross country crash hat, gloves, spurs, boots, medical card, number bib, wet weather jacket, water proof trousers, wellies, change of clothes (including under wear in case you take a ducking!)