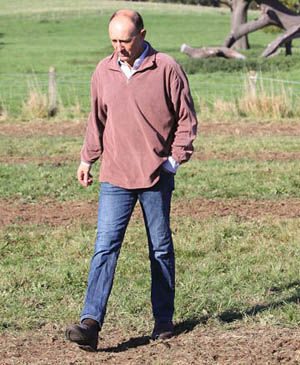 It's been a hectic week so far and it's not over yet, with schooling horses at home and taking the more experienced horses out show jumping and the younger horses cross country schooling.
It was good to get the older ones out to Allenshill, and I feel I need to take them a few more times to get them in the groove before the beginning of the season. Coco and Silks jumped well but were rather 'boyo' like in their behaviour – two unruly teenagers at a party. Figgy and Tim were a little rusty and just needed to get their eye in back in the ring; both are horses that run on adrenalin and it's a fine line between the adrenalin being productive vs a hinderance to them. I was overall pleased with them as they settled even during the rounds they jumped. Harry was a little rusty, jumping inconsistently, but he will improve I'm sure with a few more outings, while Dan was a little green but he grew in confidence as he jumped, and like Harry, will benefit from getting out and about.
I then took the younger horse cross country schooling on Wednesday – I was particularly pleased with Dotty who was only out for her second time and yet she was like an old pro, up for getting to the other side of the obstacle, be it ditch, water, little logs etc but happy to stand quitely while others took their turn – I was really pleased with her.
Blue Eyes also had his first cross country school and once he got the hang of it he was happy to go in and through the water and over a little ditch and off a step, he was also pretty sensible. Womble, Fin and Moose had come on from their previous cross country school and all went really well, being both confident and obedient, so I feel they are ready for their first event.
Minty was a bit naughty, bucking me off before we even got started. She's incredibly sensitive and has a difficult buck to sit to once she goes for it. Luckily the ground was soft as it wasn't a great fall and I don't bounce as well as I used to. Once we sorted out our misunderstanding she schooled well.
Thursday saw a morning of teaching Pony Club, working with the kids on accuracy to help them with their cross country riding, I really enjoyed it and I hope they did as well!
I them jumped in the lorry to head down to Marlborough for dressage lessons with Bettina. It was rather an eventful trip which I didn't need, with two long tail backs and a lorry partition breaking, leading to us having to off load the three horses and get sorted – such is life. Bettina was very kind and rejigged her timings so I could still have my three lessons. She was pleased (and I was relieved!) as she felt Coco and Tim were both going better. She also had a look at Silks for the first time and gave me some useful tips to try and aid his engagement and keeping him in front of my leg – he's quite a sullen horse so keeping him up to his work requires some skill and different approaches!
So all in all a productive few days. Today we are at the gallops and the highlight of the week – I'm off to Pony Club with Josh and Urssie for some stable management and gymkhana games… watch this space!
Cheers,
Bill
Posted 25th February