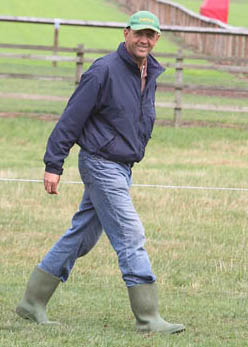 Just back from our first day at Aston Le Walls – and it's been a good day for Team Levett with all four horses finishing on a clean sheet. Darian and Mary both jumped nice double clears and Mary won her first eventing ribbon with a minor placing on Bob. I was really pleased with how the girls have improved over the winter and their horses went well for them today. So all their hard work is beginning to pay off.
I had Alex and Fin, each of them having a no pressure first outing and both went well jumping double clears to finish 4th and 2nd respectively. Both horses were on their toes and pleased to be out but in many respects that was nice to see. I couldn't have been more pleased with them for their first run as in particular they jumped well and took it all in their stride cross country.
I'll keep this short and sweet as I'm off out for a pub meal with Francis (who owns Fin and Silks) as he's staying with us overnight because Silks is running tomorrow – our first 'eventing' outing together. I'll update you on how all our horses go tomorrow.
Cheers,
Bill
Posted 4th March